About the company
AVOTI is one of the most contemporary woodworking companies in the Baltics that manufactures solid pine furniture and wood pellets. Main characteristics of our company are constant innovations in manufacturing technologies, clear and well-considered organisation of work and the highest quality standards, resulting in the manufacturing of high-quality and safe furniture for an affordable price for thousands of people all around the world.
Persistent work for more than 20 years has allowed us to reach this result.  By carefully following the processes of the company, analysing performance indicators and each manufacturing stage separately, we have gradually reached the most efficient solutions for how to obtain maximum productivity, manufacturing high-quality products and at the same time maintaining low costs and a competitive price. We are constantly developing lean manufacturing methods and regulating manufacturing processes to prevent downtime, defective articles, uneconomic activities and costs to the utmost level.
We believe that the one who endures is the one who is willing to change.
When we stop at our achievements, we take a step back, and that has never been and will never be characteristic of our company.  By constantly following industry development trends and updating our product assortment according to them, we have been able to maintain one of the leading positions for many years.
This approach has closely united our team, consisting of people who are not only professionals and experts of their field, but also proactive innovators showing a lot of initiative.  They perform their work strictly observing manufacturing standards and developed procedures, and at the same time search for, see and develop ways of how to improve manufacturing, shorten processes and make them more effective. In our company we try to find the most suitable position and functions for every employee, allowing him or her to obtain the peak of their abilities. When the whole team is working towards a common goal and is able to critically look at their accomplishments, constantly ready to implement corrections, and when we only say "good" when it is "excellent", each performance becomes a success we can appreciate together.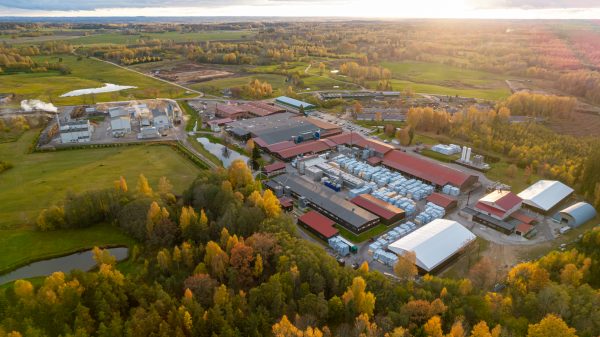 Our aim is to grow and increase the capacity of our manufactures, productivity of our work and expand our assortment of high-quality and affordable products. This goal goes hand in hand with our R&D or technological research and development workshop where we search and develop the most effective quality improvement and new product manufacturing methods, as well as timely prevent deficiencies in the existing manufacturing processes. Also, our metal and tools workshop operates in close cooperation with the technology research where we are constantly improving existing manufacturing devices and designing new ones.
Woodworking is an industry using natural resources, therefore our first rule in each cycle and upgrade of work is responsible entrepreneurship.
In our manufacturing process we only use materials from well-managed forests.
We only process wood with technologies that provide minimum impact to the environment.
We have developed a lean manufacturing technology that is environmentally friendly and self-sufficient in energy.